What Is GeneXproTools?
Microsoft award winning GeneXproTools is an extremely flexible modeling tool designed for Regression, Logistic Regression, Classification, Time Series Prediction, and Logic Synthesis. GeneXproTools is very easy to use and and is in fact as easy as importing your data and then clicking a button (the Start button) to create a great model. GeneXproTools is available in five editions: Home, Standard, Advanced, Professional, and Enterprise. Academic Versions are also available at half price for education institutions and students.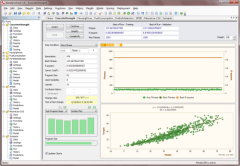 GeneXproTools can process datasets with tens of thousands of variables and effortlessly extract the most significant features and their relationships. GeneXproTools is also a very user-friendly application simplifying the access to all types of data stores from raw text files to databases and Excel spreadsheets. You don't need to know any programming language to create powerful and accurate models. GeneXproTools provides all the necessary tools to clean and analyze your data, handle your datasets, generate models, analyze them and then apply them immediately to any new database using its flexible scoring engine. If you want to integrate the generated models with other applications, GeneXproTools lets you translate the code to up to 19 different programming languages (Ada, C, C++, C#, Excel VBA, Fortran, Java, JavaScript, Matlab, Octave, Pascal, Perl, PHP, Python, R, Visual Basic, VB.Net, Verilog, and VHDL).
Deployment of models and ensembles to Excel
GeneXproTools can deploy individual models or ensembles of models to Excel, with the automatic generation of the Majority Vote and Average Probability Models for Classification and Logistic Regression, and the Average and Median Models for Regression and Time Series Prediction.
High quality models
GeneXproTools generates models that are at the same time very accurate and have high generalizability. You can easily learn your way around this innovative modeling tool using the 20 sample runs that ship with GeneXproTools or by using your own data. With the 30-days Free Trial Demo you can load your own data and analyze it, create models and analyze them without restrictions, as the Demo is fully functional during the free trial period. After the trial period GeneXproTools remains fully functional for the sample runs, but blocks the opening and creation of new runs. The models created using your own data with the Free Trial Demo are unlocked as soon as you purchase a license of GeneXproTools. The application can work in demo mode indefinitely.
Unlimited variables and records
This new version of GeneXproTools can process any number of records and variables, limited only by the computer resources available. In practical terms a modern computer processes datasets with over one or two million cells effortlessly, processing, in this case, around five generations per second using the default settings. The new file format can load this amount of data in a few seconds and store it very efficiently.
Ease of use
GeneXproTools is the most user friendly predictive modeling tools in the market, hiding the complexity behind simple wizards and concepts familiar to anyone with basic computer knowledge. Around the world creative people with all levels of expertise are making groundbreaking discoveries and creating extraordinary new products because GeneXproTools provides a robust modeling platform across different research fields.
At first sight GeneXproTools is a surprisingly simple data modeling application. And you can use it at that level and still reap all the benefits of an innovative modeling platform. As your knowledge of the tool increases, you will find many new ways of increasing the effectiveness of your work and improve your results even further.
If you need more information on how to use GeneXproTools in your field, please contact us and we will work with you to determine the uses and benefits that GeneXproTools can bring to your work or research.